5 Mantras to Crack the Law Entrance Exam
Eptitude Admin
- 4 years ago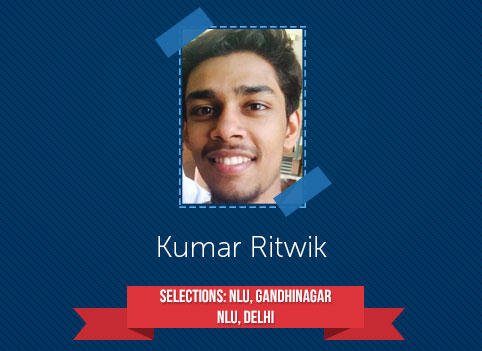 '
How to crack the AILET?
' or '
Will I score well in CLAT?
' are complex questions that can only prove to be a stumbling block in the thought-process that is required to prepare well for the law school entrance examinations. Keeping such questions aside and focusing solely on your aim is of prime importance; in course of this article, I shall mention a few things I did that helped me get a decent score at CLAT & AILET.
1) Clear focus & aim
I joined Eptitude at the time of its establishment without any information other than the basic knowledge about entrance examinations. But even then, I did have a clear aim to pass through the examination so as to get a seat in my dream college: National Law University, Delhi. There are times when you would feel dejected looking at your mock test scores or practice tests, and there may be times when you would feel you are missing out a lot at school because of the preparation of law entrances; it is exactly then that you take a deep breath and remember what your aim was. And actually try to imagine yourself achieving it, it helps a lot. Only when you have desperation for what you want to achieve that you actually make rapid strides in that direction. Every small step in that direction counts and therefore do understand that you ought to keep your morale high even when you are under a lot of pressure that is going to be thrust upon by the examinations of school.
2) Prioritising at the right time
There are times/situations (coming very soon!), especially in Grade 12 when you would have to make the tough choice of compromising on either your Board exam preparation or law school entrance tests, what would you choose then? This is precisely when the question of priority comes in and it would definitely vary for all of us based on our preferences, situations, moods, family support and aptitude. My suggestion is not to let such a situation come your way; school academics and law entrance preparation can go hand-in-hand (contrary to the prevalent notion). I focused with all my heart on law entrance examinations preparation in the months of October-November primarily and keeping up with the course at school as well. The part of school when Pre-Boards and Boards arrive in the months of January-March, do not commit the mistake of losing touch with law school preparation that is needed at all times.
3) Time is of essence
Howsoever clichéd it may sound, every aspiring National Law School student must be serious about time at this necessary juncture. It may be during the mock test or preparation or day-to-day affairs, working within a specified time limit is of utmost importance and ought to be held in high esteem. AILET or CLAT are law entrances where time is a make-or-break factor; you cannot afford to take more than the required time at every section of the paper. Try practising completing every section within the given target time. For starters, completing a Legal section in 40 minutes is good enough but with time, completing it within 25 minutes is key to a successful paper. Giving sufficient time to the law preparation of different sections is also of great importance; and what is more important is the review or revision of the studies done on that particular day. A thorough reading of your Legal Knowledge notes or practice of Math concepts in a day would never take more than an hour of your time and can be easily done without much ado.
4) Try to recognise your weak areas first
As soon as you start with a mock series, you would automatically be able to analyse your weakest section/part of the paper where you would have either attempted a lesser number of questions or would have gotten a lot of questions wrong or even taken a lot more time than necessary. It might give you unnecessary comfort and happiness by solving problems/areas that you are good at but it would not help you in any way when AILET/CLAT knocks at your door. Therefore, it is important to focus on the law preparation with a clear intent of strengthening your weaker areas of the paper to turn them into your strengths. And the best way to do so is definitely by practise.
5) Mentor-Student relationship
The most important factor in the selection criteria to a National Law School is to have a mentor who understands your strengths and weaknesses and is willing to go all out to help you with the preparation. I had the good fortune of having three mentors who did absolutely the same; and that level of comfort that I shared with them helped me significantly in discussing my problem areas comfortably. Strengthening your bond with your mentors has huge advantages that you ought to experience, only by staying dedicated to your goal of getting into the prestigious law schools and taking strides towards the same.
My final advice to all law aspirants is to stay focused towards their goal, start preparing for entrances with sincerity, have a lot of fun to stay relaxed, take the word of your mentors as ब्रह्म-वाक्य and develop that sense of anxiousness to learn every day. Thanks!
National Law University, Delhi
Comments