EPTITUDE'S MENTORSHIP PROGRAM
Eptitude Admin
- 4 years ago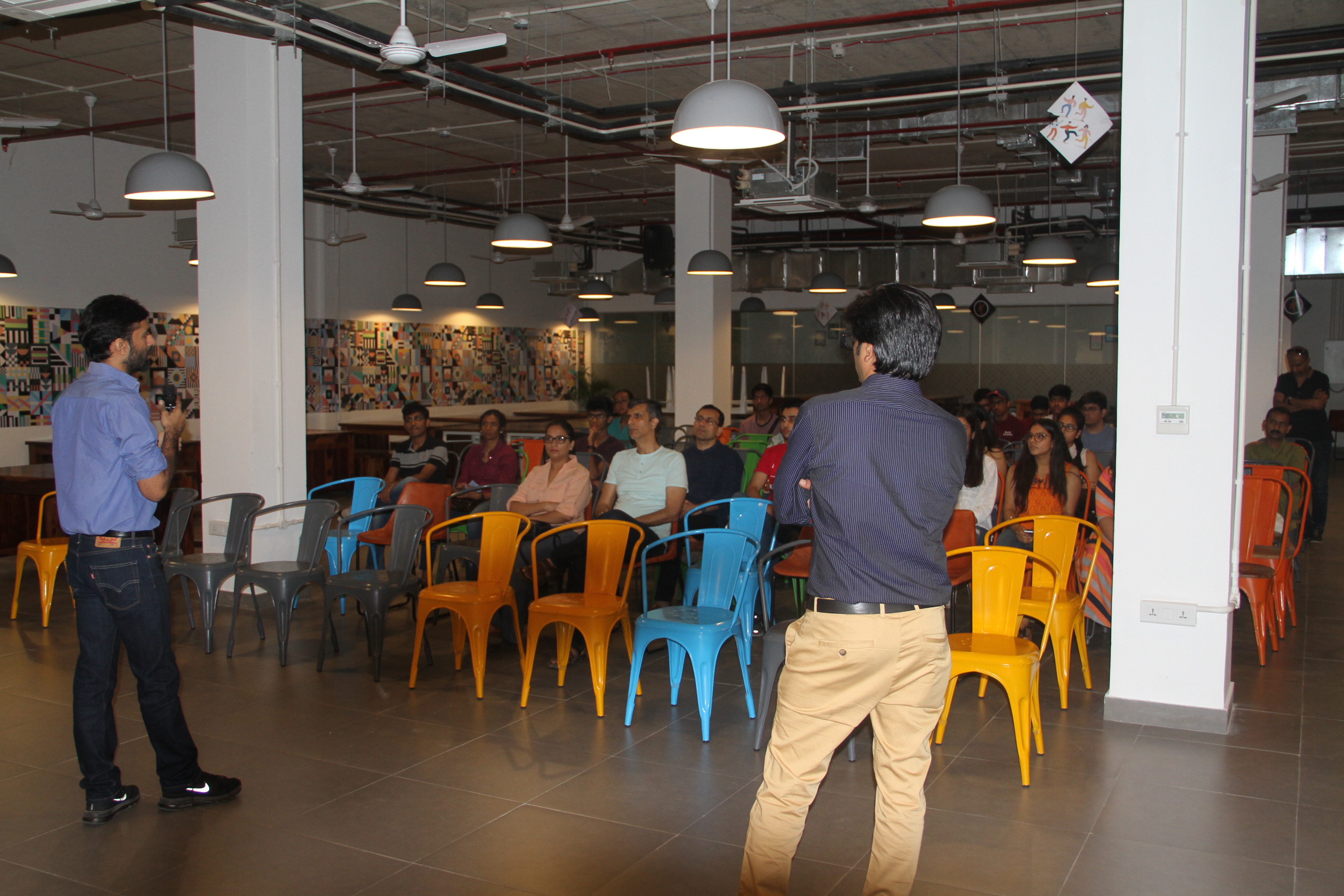 So our mentorship program kicked off last Sunday i.e. 9th June 2019 with a seminar on "How to grab your dream career".


In line with the Pareto principle, we at Eptitude believe that making a dream career a reality is 20% inspiration and guidance, but 80% is about having the motivation, conviction and perseverance. This seminar was an endeavour to kickstart efforts towards the 'Initial 20% tasks' and to throw light on "The Top-5 things that a School Student entering college must do in order to achieve his career dreams".

So, when a bunch of students and parents assembled at 91Springboard, Udyog Vihar on a hot Sunday morning, the expectations were understandable – some advice on how best to approach the ideal career, answers to the usual conundrums such as 'Campus Placements vs Post-graduation" and "Acads vs Extra-curriculars", and the collective wisdom of the IIMB mentors (Abhishek Anand and Anand Venkatesan). And boy were they in for a surprise! Team Eptitude delivered on all of the above and then some more!
How best to use the 3-4 years in graduation


The session began with Abhishek Anand (an SRCC and IIM Bangalore alumnus) outlining the basic plan for each year of graduation.
Abhishek focused on the following salient points:

Importance of Acads (academic performance or grades) in getting a good job, as well as in getting admission into the best colleges for post-graduation.
The criticality of managing sources of information. Networking with seniors, placement committee members, faculty etc. or browsing through online and offline student forums will give better idea about career prospects, personality-fit and skilling/employability.
Internships and live projects. Besides adding weight to your CV, they provide greater clarity on career choice and lend greater maturity to the student.
Positions of Responsibility – A definite focus in the initial years of graduation must be to involve oneself in organizing and coordinating events for the various clubs and societies of one's college.
Extra-curricular Activities (ECAs) that expose the competitive streak in you, while also lending a touch of versatility and passion.
Abhishek put special emphasis on creating unique experiences during graduation and he illustrated the same by talking about being part of larger-than-life events such as 'Confluence' and the 'Enactus World Cup', which would definitely add a new dimension to a student's personality and aspirations.

Abhishek then invited four student-achievers with diverse backgrounds, who had taken different approaches to secure their career aspirations: while two of them had gotten placed into the Big Three Consulting Firms, the others had gained admission into the YLP program offered by the prestigious Indian School of Business. In sharing their experiences, they wowed the audience with their candidness, the relatability of their situations, and above all, their eloquence in structuring/expressing their learnings.


Student Experiences


Sahil Rohilla, a BMS-Finance graduate from Shaheed Sukhdev College of Business Studies, recounted his experiences in various clubs and societies (including Enactus) at college, but also about how an accident severely restricted his options. The low grades in his initial semesters, his internship experiences, and the multiple rejections he faced before bagging his dream job made an inspiring story for the students on how grit, determination and consistent efforts can help one surmount even the most impossible of challenges.


Raveena Rana, a B.Com Hons graduate from Lady Shri Ram College for Women, was full of energy and recalled how she initially felt attracted and inspired by everything around her in college. From joining key clubs, societies, hosting major events and participating in various activities (including her personal passion - dance), she impressed upon the audience the importance of life experiences and how they impart confidence and maturity. She also paid homage to a School senior of hers who had been instrumental in expanding her horizons and guiding her each step of the way. Her story was the perfect example of how foresight, confidence and informed choice can lead to success.


Harshit Malhotra, a BMS-Marketing graduate from Deen Dayal Upadhyaya College exemplifies the importance of conviction and self-belief in achieving success. He recalled how he rejected offers from renowned private universities in favour of DDU and felt that this was a dilemma many students would face even today. The main reason for his choice was that he felt that he could contribute more (in clubs, societies etc.) in a less-established college, than in a renowned and extremely competitive one such as NMIMS. He also reasoned that Delhi University would give him more time for his other career-related pursuits. In the multiple internships that he did, he enjoyed good rapport with his superiors besides gaining a good reputation for his work and commitment. This ultimately led to a PPO from the company of his choice, and he was also rewarded for his consistent efforts by gaining admission into the YLP program at ISB.


Asmita Agrawal, a B.Com Hons graduate from Motilal Nehru College had a complete roller coaster ride during her college days, but the journey is as relatable as it is inspiring. Always believing herself to be mediocre, perennially short on self-confidence and with very few opportunities in her college, Asmita had felt unsure about ever making into a top B-School. However, her life completely changed when she landed an internship with a Start-up organization where she had to take on multiple roles and responsibilities. To her surprise and exhilaration, she did well in all her assigned tasks and in fact won the appreciation of her employer, who convinced her to stay on for almost a year. This experience boosted her confidence in her abilities, instilled the self-belief in her to seriously think of her career goals, and above all gave her the much needed fillip to grab her dreams. Having gained admission into the YLP program at ISB, she is now focussed on enhancing her repertoire at the workplace and upskilling herself in medium term.


We hope that these stories inspire you to find your own path to a successful career. Do keep in mind, however, that you will need to be disciplined in order to keep to the hard road to success! The Eptitude Mentorship program will include many such inspiring journeys, specific interventions and general upskilling tasks to improve employability and job-preparedness.


To join our mentorship program or for any queries about the same, write to us at abhishek@eptitude.co.in.


Best of luck!!!
Team Eptitude
Comments