Career in Law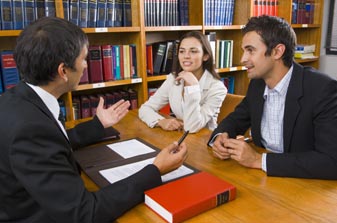 The legal profession in India has undergone a strategic and substantial change over the last few decades. Now-a-days law aspirants not only figure in courts but make their presence felt in various corporate houses, law agencies, law firms, litigation, administrative services and many more areas.

Earlier it was seen that the profession of law was more of a family profession – whole families had been choosing law as a profession for generations. But the situation has changed today – anyone having the requisite traits and passion for this field can now opt for the course and can achieve what he/she has set out for.

There is anecdotal evidence to suggest that, with the prolonged downturn leading to shrinking corporate margins, corporate houses are becoming more combative, much more ready to sue if they feel their interests threatened, than before. Corporate litigation, challenging the government's tax and tariff demands, for instance, or taking on fellow corporate houses over alleged breach of contract, is on the rise, and litigation-related work is thereby offering better opportunities to newcomers. With litigation increasing, more youngsters are also getting a chance to do more significant work than before.

There was a time when the only options we heard of with regard to law, were civil or criminal practice. Now, however, things have changed tremendously, and the options after gaining a law degree are immense, and are continuously growing in India as more and more multinationals open up here.

Students can study corporate law, mediation and negotiation, international law, intellectual property law, environmental law, women's laws, human rights laws and labour laws, just to name a few alternatives. Additionally they can aim for a position in the United Nations, or can step out immediately after graduation, and start practicing in courts.

In fact, the reputation of Indian law graduates has crossed seven seas, with the result that international law firms and global consultancies such as McKinsey are flocking in large numbers to the NLUs to recruit directly for their overseas offices.
"It's that every now and again – not often, but occasionally – you get to be a part of justice being done. That really is quite a thrill when that happens."
(Dialogue from the court scene in the motion picture Philadelphia, 1993).
Leading recruiters for law undergraduates -
Law Firms (Domestic)
Amarchand & Mangaldas
Suresh A Shroff & Co.
AZB & Partners
Luthra & Luthra
Trilegal
Khaitan & Co.
Nishith Desai Associates
Law firms (International)
Cliffred Chance
Allen & Ovary
Ashurst LLP
Norton Rose Fulbright
In House
ICICI bank
SAIL
Bank of Baroda
ITC