CAT tests decision making skills of future business manager, says Abhishek Anand, Director, Eptitude
Urvashi Dalal
, Author - Careers360 - October 24, 2015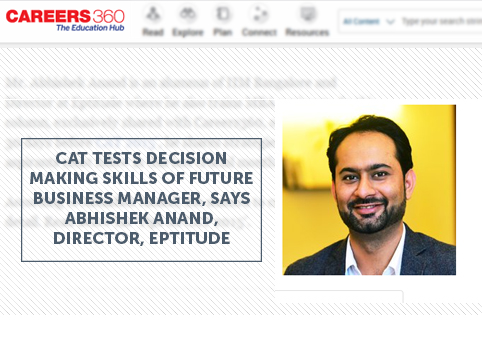 Mr. Abhishek Anand is an alumnus of IIM Bangalore and Director at Eptitude where he also trains MBA aspirants. In this column exclusively shared with Careers360 on 'How to utilize 30 days before CAT 2015' he shares strategies that the aspirants must follow in this last crucial month.
According to Abhishek Anand the mantra to crack CAT is in the detail. Read below his 'Tips on CAT 2015'.
Column by Abhishek Anand:
CAT is a test for selecting future business managers and leaders who can opt for the best option from various decision choices. The paper is designed in a way to test those skills of the candidates. The key skill required by the candidates is to be able to identify the questions not to be attempted.
Some questions are extremely tough in nature and as a candidate you must simply avoid them. These could be called level 3 questions. The paper will also have some sitters - level 1 questions and some average difficulty level questions or level 2 questions.
Things to do in the next 30 days
Complete and Analyze mock tests
Do I always leave (not able to read) the last few questions in each section?
If yes this indicates that you attempt the paper in a chronological order and move to the next question only after you have either solved or failed to solve the previous question. While this looks like a logical thing to do your task the important thing is to first finish level 1 and level 2 questions and only then attempt level 3 questions. So if you come across a question which you have identified as a level 3 questions do not attempt it and move on to the next question.
Do I attempt all the level 1 and majority of level 2 questions?
The answer must be "Yes" or at least a 90% to the question. Remember the students who get 99 percentile in the paper do not get these types of questions wrong.
Set a target for the next mock-test you take
Identification of the level of questions
This is the key to crack CAT. Once you are able to identify the type of questions in each section you will be able to take control of the paper. Go back to the tests already taken and practice the level 1 and level 2 questions again and again till the time you master them and also get an understanding as to why they are level 1 and level 2 questions. You should also analyze level 3 questions and understand what makes them difficult.

Section wise To-Do list

Verbal section:
Work on your reading speed - 300 - 350 words per minute is a good reading speed. Practice speed reading at least 30 minutes and ideally an hour every day
Solve some RC questions of GMAT
Solve the previous years' CAT papers especially after 2005
Build some reference points for unfamiliar topics like philosophy economics art feminism religion etc. There is an excellent series of books by the Oxford Press called "A Very Brief Introduction to".
Quantitative Aptitude:
This section will have 34 questions. 10 to 12 questions should be of level 1 12 to 15 should be of level 2 and remaining should be level 3. Attempt this section in three phases. In phase 1 attempt level 1 and level 2 questions. Do ensure that you have read all the questions in this phase. In phase 2 attempt all the level 2 questions that you were not able to solve in the first go. If you are still left with some time attempt the level 3 questions.

LRDI section:
This section will have 34 questions distributed around 8 -10 case lets. In this section also first run through all the case lets and select the case-lets to be attempted. Focus on solving 6 to 7 case-lets. Choice between LR and DI should depend on your comfort level in both the types.
Do not worry too much about the change in the pattern. Make sure your basic skills are in place and well honed. However make sure you have signed up for a good mock-CAT series that will help you get familiarized to the new pattern.